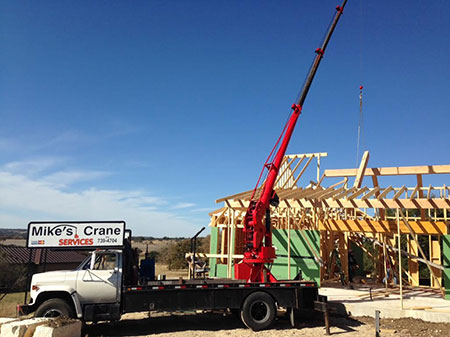 At Mikes Crane & Services, we make it our mission to meet all your needs with top-quality service and affordable rates. We know you've invested a lot in your home or business, and we want to make this part of your project as smooth as possible. To best assist you, we offer the following professional crane services in Kerr County, TX.
Construction: Few construction projects can be completed without crane services. The professionals at Mikes Crane & Services will help ensure your beams and all wood and metal trusses get where they need to go.
Hot tubs: Who doesn't love a relaxing dip in a hot tub? They're nice, but they're heavy. Get the crane services you need to install your hot tub with ease. We'll help you keep your project smooth and efficient.
Swimming pools: Start enjoying your pool sooner with Mikes Crane & Services. Get everything in place, so you and your guests can get to work on your tan. No job is too big or small. We offer the equipment and knowledge to get the job done right, the first time.
A/C units: Is your building getting an upgrade? Is it time to replace an old unit? No problem. Mikes Crane & Services makes the job simple with the best tools and service around. You'll be enjoying cool surroundings in no time.
Tree removal: As your specialized crane company in Kerr County, TX, Mikes Crane & Services also offers no-impact tree removal. Safely remove menacing trees or limbs hanging over a house before they damage or fall through the roof.
What's your next project? Big or small, Mikes Crane & Services is ready to assist you. Don't start the heavy lifting without us!
Contact Mikes Crane & Service today for professional, reliable crane services at affordable rates. Reach our friendly staff at 830-739-4704.