Mikes Crane & Services
Family owned and operated since 1980, Mikes Crane & Services has built a reputation for delivering excellent workmanship, dependability and professionalism to the residents and businesses of Kerrville and the surrounding areas. We are your go-to source for lifting beams, trusses, air conditioning units, pools, hot tubs and more.
Crane Rental Company in Kerr County, TX
Mikes Crane & Services has been the premier crane rental in Kerr County, TX for over three decades. We offer a full line of crane services, including lifting trusses, beams, pools, hot tubs and air conditioning units. We pride ourselves in providing industry-leading service that exceeds expectations, every time. Our leading reputation is built on our one-hour minimum on-site base service and the most competitive prices for crane service in Kerrville. It's easy to see why home and business owners throughout the region have continued to make Mikes Crane & Services their crane source for generations.
Do you need specialized crane service in Kerr County, TX? Mikes Crane & Services has you covered. In addition to our typical crane projects, we also offer no-impact tree removal. Do you have another task in mind? Just ask. Our knowledgeable professionals will review the best crane service options to help you get the job done right. Whether you're ready to install that luxury hot tub you've been dreaming of, or need to replace the AC unit for your business, Mikes Crane & Service is ready to assist you. Contact our professionals to learn more about the many benefits of partnering with us for all your crane service needs:
We are locally owned and operated, established in 1980.
We provide a one-hour minimum on-site base service.
Our prices are the most competitive in the region.
We bring decades of experience to your project.
We offer free estimates.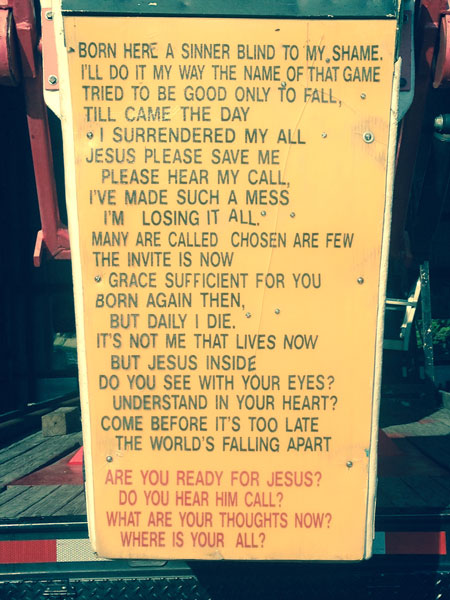 I have carried this "invitation" mounted on the bucket since 1991. It faces all motorist who are stopped behind the truck at a red light, who drive behind or when pulled up at a job site. It is my own testimony and inspired invitation to those who read. Over the years many have shared with me their conviction and decided to come to Jesus. I consider this as one of the greatest privileges of my entire life to be known for carrying this sign for my Lord. This is the reason it is included and prominently displayed on this website. May God also bless you!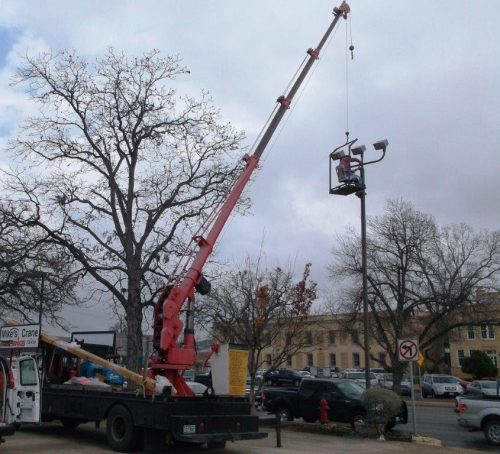 An older pic before boom repainted showing single man chair lift. This by far is the most comfortable way of working up high in a variety of applications when tools, paint or chainsaw is needed. Used in service, installation, painting, no-impact tree removal in conjunction with two load lines. One line to carry chair lift, the other a tree limb, antennae, sign or etc.
Let us do the Heavy Lifting
Contact Mikes Crane & Services today for professional, affordable services for your next crane-assisted project.
Areas Served
Proudly serving Kerr County TX and surrounding areas such as:
Kerrville, TX
Gillespie County, TX
Kendall County, TX
Bandera County, TX
Real County, TX
Kimble County, TX
Ingram, TX
Center Point, TX
Mountain Home, TX
Rocksprings, TX
Junction, TX
London, TX
Harper, TX
Leakey, TX
Medina, TX
Bandera, TX
Boerne, TX
Comfort, TX
Fredricksburg, TX
Llano, TX
Johnson City, TX
Hye, TX
Stonewall, TX